While perusing the Crafts and Me playground of stamped images, I came across this magnificent image by Molly Harrison. Molly is a northern California artist that aspires to the world of fantasy. I'm thrilled that she shares this Creekside Magic image in a rubberstamp and I just had to buy it.
I've stamped this image using Memento Tuxedo Black ink onto Bazzill Smooth White cardstock. This photo shows how the image looks filled with Copic colors . . .
Ahhh . . . but there's more.
I've used my Copics to add some deliberate streaking throughout the base and provided more ground depth.
Ooo . . . and there are so many things to do with backgrounds. It was tough to decide if I should airbrush using masks, add some simple outline shadows or leave the background white. I decided to play and used my lightest Copic colors to scribble and stipple. The color and texture of the background is oh so subtle. Here's how it looks now . . .
I really do love working with my Copics!!!
I pulled together some Bazzill purple and teal and some Bo Bunny a gift of love Winter Joy Bundled to form a layered easel card. I used Copic
atyou
Spica in Lavender for faux stitching. Tropical purple mini brads by Creative Impressions adorn the corners. A bit of 5/8" teal satin ribbon provides a slight border.
I adhered my Creekside Magic image slightly to the right side so I could add a border of fun embellishments. Some Prima Sugar Plum Roses in eggplant, a berry vine, McGill fern punches, Martha Stewart's butterfly punches and a QuicKutz revolution flourish are playing to her left. Diamond Stickles are thinly painted over border accents.
This photo shows the card front . . .
I've added a "Believe" sentiment from Prickley Pear and an "anything is possible" sentiment from The Rubber Cafe.
Here's a view of my completed easel card using Molly Harrison's Creekside Magic rubberstamped image by Crafts and Me.
You can find an Under the Sea challenge at the Crafts and Me Challenge Blog
here
.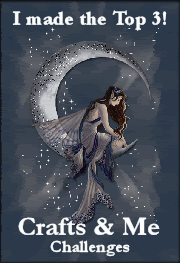 Copics used:
skin - E000, E01, E11, E93
hair - E53, E57, E59
rocks - W00, W1, W3, W5, W7
water - B95, B91, BG0000
reeds - G82, G85, G99, YG11, YG13, YG17
flowers - BV000, BV00, BV11
open flower - Y000, Y00, Y11, YR12, R37
breast cover, fin - Y11, Y13, Y17, Y38
mermaid tail - BG70, BG72, BG78
grasshopper - BV02, Y02
butterflies - B02, BG02, Y02, YR02, R02, BV02
background - scribbling with all 0000's and stippling with colorless blender