Fantasy images are so much fun to work with when creating card art. Limitations and preconceived outcomes are lifted. You can use any color combinations, to any degree, and your fantasy image will be perfectly acceptable. Want to use blue hair? Cool. Want green lips? That works. Want to see a moon in the daylight? That's awesome. Want to play with your Copic Fluorescent shades? Fantasy art images are perfect for that too.
Having this much fun is probably illegal somewhere. I've been playing with this Red Hearts image by Ching-Chou Kuik. Her fantasy art images are amazing, have been licensed by Sweet Pea Stamps and are also available through Crafts and Me.
Here's a view of the Red Hearts image that I've filled using Copic markers . . .
The Crafts and Me Challenge blog is currently running a photo inspiration challenge and asks for texture to be included. (Find more about the challenge
here
.) Sweet Pea Stamps is offering a $20 gift card to a random entry of this challenge. In celebration of the challenge's one year anniversary, a separate random entry will win eight Crafts and Me digital images!
Using Copic's Opaque White paint for highlights in an image adds texture. If you were to gently rub the surface of my image, you'd feel the slightly raised areas where the Opaque White has been added. I'm really happy with the way her hair appears white and still shows shaded areas. I love the way the white dots and highlighted streaks appear so super white, even though that white is covering very dark Copic colors in some places. (You can find more about how I use Copic's Opaque White on one of my earlier posts
here
.)
I really don't want anything to take away from this image being the focal point of the card. A few Bazzill Basics Bachelor flowers with McGill branch punches make a simple embellishment. A little glimmer is in place using Creative Impressions White Glimmer Round Fasteners and some painted Diamond Stickles.
This quote is included with Ching-Chou Kuik's stamp set . . .
Here's a view of the completed card front showing my use of Copic brights to coordinate with the photo inspiration of the Crafts and Me Challenge with extra texture added using Copic Opaque White.
Escape your day-to-day pressures and enter the realm of color through fantasy art.
Sweet Pea Stamps has a challenge blog called "In A Sweet Pea Dream." They're offering a $7 gift card to a random entry for their current "use pink" challenge. Find that challenge
here
.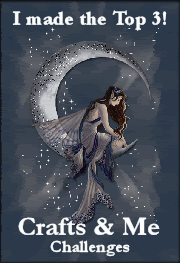 Copics used:
hair - C0, C1, C3, C4, W5, Opaque White
skin - E000, E01, E11, E93
eyes - B06, B02, B0000, C0, C1
dress bottom/gloves - B21, B26, B29
dress top/wings - RV14, RV19, RV23
circle background - B21, B0000, RV23, RV0000, C2, C00, 0
airbrushed background - C3, YR02, G02, Y02